Category Archives:
Uncategorized
During the Joel Grimes workshop Joel mentioned some techniques he used with one light to get some great soft light wraps and reflectivity. I have always liked this image of Joel's and wanted to try some experimentation on my own
So I thought I would set out to build a poor mans light box made out of white poster foam core board. I built a simple L sharp with a short square piece of foam core and a longer rectangualr version. I joined the corners of these two pieces with gaffers tape.
I then used a rectangular piece of foam core as the "floor" of the box around which i fit my L structure. I didn't join the two as the l structure stood upright without any issues. Here's a image of my light box in use: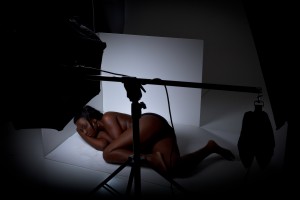 Using model Tiffany Jackson, who was kind enough to put up with my rookie level of experimentation, I produced these two images from the light boxing part of the session:
Key Learning's: I need to make the light box higher. Cropping and saving time in photoshop is key and you need more vertical height to make this work more efficiently. Experiment with different ISO and aperture settings to find one you like. This is more of a creative exercise in my view than anything else. Its easy to build and you will have fun trying to see what your like.
Nuff Said.
Didn't sleep well today so I was up very early and decided to go out for an early am photo-walk in Santa Monica. I was shooting on the pier and saw this below the boardwalk. After shooting my exposures I went down to take a few more from a different vantage point when this guy came down the stars and walked right towards me.
I thought I was going to get yelled at for taking photos but he proceeds to go into this diatribe of how he is from kabul and fought the Russians and the US needs to leave etc. I honestly couldn't tell where the guy stood politically and then when he said he was running for District Attorney I figured he may be a few trees short of an orchard.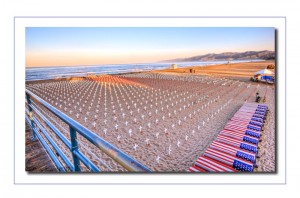 Anyway this memorial was named Arlington West and I believe they were going to have a candle ceremony tonight on the beach. It certainly was a powerful reminder on this day to remember all who have served and sacrificed.
About Arlington West:
Sunday from sunrise to sunset, a temporary memorial appears next to the world-famous pier at Santa Monica, California. This memorial, known asArlington West, a project of Veterans For Peace, offers visitors a graceful, visually and emotionally powerful, place for reflection.
Arlington West Mission Statement
In accordance with the Veterans For Peace Statement of Purpose, the Arlington West Mission Statement is to honor the fallen and wounded to provide a place to grieve to acknowledge the human cost of war to encourage dialogue among people with varied points of view to educate the public about the needs of those returning from war.
Was inspired by an image that a photographer did on Flickr that you can see here at www.flickr.com/photos/erroba/5665587779/in/photostream . So I thought I would try photographing a match lighting and see where that would lead me. I didn't have a macro lens like Erroba but I used my 60mm which did a pretty decent job.
My Camera Settings:
1/500
f/5.6
ISO 100
60mm lens
I was about 2 to 3ft away. I also would focus on the match head, turn off my autofocus, and then reposition the camera for different compositions. Its easiest to use another match to light the match being filmed. I shot in camera raw and had the shutter set to continuos. I also used a remote shutter release. My camera is a Canon T2i, and I'm sure that if you have a higher end Canon or Nikon your shutter speed will be much quicker.
I then brought the image into CS5 for some light sharpening, denoise and a levels adjustment. I then slightly adjusted hue and sat to my liking. From there I brought the imageback into Aperture 3 and applied a desaturated film preset that you can find on ApertureExpert.com. You can see a video I made of the rest of the imagery here:
For some of the images I broke out a 580exII speedlite and did some multi-strobic flash that turned out great and you can see some of that in the above video. A friend suggested it would have been interesting to film the match lighting sequence backward from lit flame to unlit match and I agree. These are great images that you could no doubt use in your own home for a Spark or just at its a core its a fun project to try on your own.
Nuff Said