Tag Archives:
light
During the Joel Grimes workshop Joel mentioned some techniques he used with one light to get some great soft light wraps and reflectivity. I have always liked this image of Joel's and wanted to try some experimentation on my own
So I thought I would set out to build a poor mans light box made out of white poster foam core board. I built a simple L sharp with a short square piece of foam core and a longer rectangualr version. I joined the corners of these two pieces with gaffers tape.
I then used a rectangular piece of foam core as the "floor" of the box around which i fit my L structure. I didn't join the two as the l structure stood upright without any issues. Here's a image of my light box in use: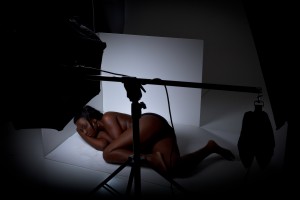 Using model Tiffany Jackson, who was kind enough to put up with my rookie level of experimentation, I produced these two images from the light boxing part of the session:
Key Learning's: I need to make the light box higher. Cropping and saving time in photoshop is key and you need more vertical height to make this work more efficiently. Experiment with different ISO and aperture settings to find one you like. This is more of a creative exercise in my view than anything else. Its easy to build and you will have fun trying to see what your like.
Nuff Said.
I came across this article in Photoshop User Magazine by Bryan Oneil Hughes about creating a painterly effect in Adobe Camera Raw. We all know the develop module in LR3 is essentially the same thing as Adobe Camera Raw so why not try it. Bryan suggests maxing out the noise reduction in camera raw, which is the detail section under the Develop Module in LR3.
That makes sense, as we all know more noise control reduces detail. He also says to pull down the Luminance detail  slider to get the effect and look your looking for. Additional steps suggested by Bryan are to over pop the warming in white balance and saturation. So I tried that on this image and, the first pass out of the oven, I didn't like. Even thought I had maxed the noise control there still seemed to be too much detail.
I recall seeing another tutorial somewhere where the idea was to reduce clarity, and use that as a skin-smoothing alternative with a selective brush. So I thought why not try that here, and I liked the effect I was getting. I then used the selective brush with exposure brightness and sat control to detail the image to my liking.
So if the first pass doesn't work then try using the clarity control and reduce it to remove detail.  You can then apply an ungodly amount of presets to take it to the next level but I was pleased with this result as it looked like a chalk drawing even though it was actually a painting on a textured wall.
Nuff Said
Posted in

Lightroom 3, Texture Explorations, Tutorials
Also tagged 3, adobe, art, california, effect, exf, francisco, graffiti, mural, painterly, room, san, wall
Leave a comment