Tag Archives:
san
I came across this article in Photoshop User Magazine by Bryan Oneil Hughes about creating a painterly effect in Adobe Camera Raw. We all know the develop module in LR3 is essentially the same thing as Adobe Camera Raw so why not try it. Bryan suggests maxing out the noise reduction in camera raw, which is the detail section under the Develop Module in LR3.
That makes sense, as we all know more noise control reduces detail. He also says to pull down the Luminance detail  slider to get the effect and look your looking for. Additional steps suggested by Bryan are to over pop the warming in white balance and saturation. So I tried that on this image and, the first pass out of the oven, I didn't like. Even thought I had maxed the noise control there still seemed to be too much detail.
I recall seeing another tutorial somewhere where the idea was to reduce clarity, and use that as a skin-smoothing alternative with a selective brush. So I thought why not try that here, and I liked the effect I was getting. I then used the selective brush with exposure brightness and sat control to detail the image to my liking.
So if the first pass doesn't work then try using the clarity control and reduce it to remove detail.  You can then apply an ungodly amount of presets to take it to the next level but I was pleased with this result as it looked like a chalk drawing even though it was actually a painting on a textured wall.
Nuff Said
Posted in

Lightroom 3, Texture Explorations, Tutorials
Also tagged 3, adobe, art, california, effect, exf, francisco, graffiti, light, mural, painterly, room, wall
Leave a comment
Caught some street life in China Town on a recent business trip to San Fran early in the morning one day. Processed in LR3 and Nik Silver Efx 2. Lens was a 50mm. I decided on different crop for this image as I liked the two guys to the left and right. I thought i would try more of a HD feel to get them in but reduce the noise and focus on the women.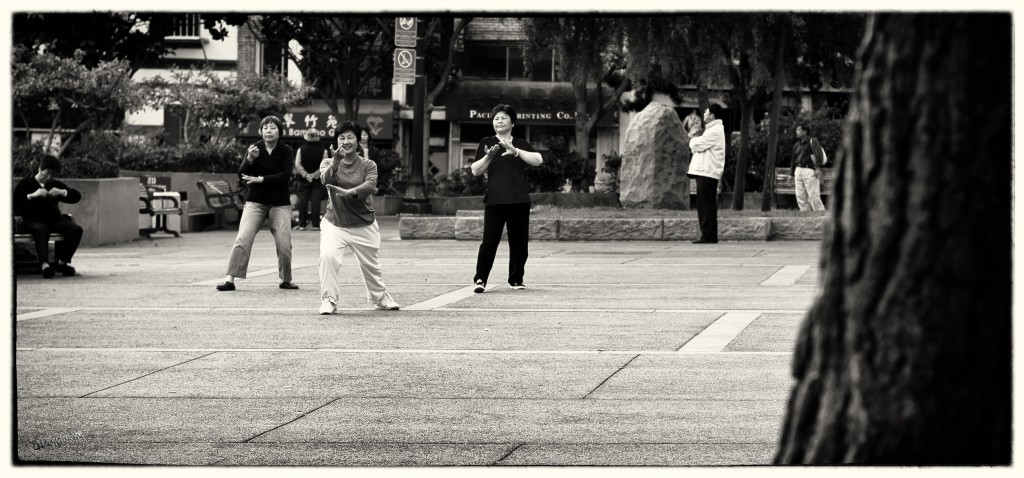 I think this crop really helps make this a more interesting image as you get a little lost in looking at the still life in the park. Let me know your thoughts and suggestions.
Nuff said
Posted in
street photography
Also tagged 50mm, asian, black, california, china, exercise, francisco, LR3, nik, park, people, photography, Silverefx 2, street, town, white
Leave a comment
Photo inspired by the work of local AZ photographer Jon Matthies. You can see Jon's work here at his website.
In this image I forced myself to shoot with my 50mm on recent trip to San Fran in an effort to try and develop my eye. I have never fallen in love with my 50mm and have used my 60mm far more but most prefere my 28-70mm zoom.
It was good challenge and experience as it did give me some different perspective. I also forced myself to try different camera angles and of course new approaches to post processing.
In this image I processed mostly in LR3, and then brought it into CS5. I applied a levels adjustment but used the lightness bar at the bottom to remove practically all light. I then used a brush at about 10% opacity and just got creative with painting back in the normal image exposure to a degree I liked.
Its a cool technique if your shooting the mundane and want to get some sizzle in your imagery. I then brought it back into LR3 and applied a blur fileter with contrast. Thats it maybe 10min tops in post.
Posted in

Lightroom 3, Photographic Artforms, street photography, Texture Explorations
Also tagged 50mm, california, Canon, fire, francisco, hydrant, lr3.cs5, texture
Leave a comment