Tag Archives:
studio
Came across a cool little tutorial by Don Fadel of Kidona photography on how to use Photoshop to clean up your studio floor. I captured some notes from Don's video tutorial that you can see here:
Cleaning up a studio floor in Photoshop
• Copy Background Layer (Cmd J)
• Make duplicate layer blend mode to overlay
• Open up filters
• Open Noise and select dust and scratchers
• Set radius to around 10-14
• Add a black layer mask
• Select brush foreground to white
• Paint in effect to your desire
• Still need to address layer dirt/etc with additional methods like content aware, healing brush or clone tool etc..
Nuff Said..
During the Joel Grimes workshop Joel mentioned some techniques he used with one light to get some great soft light wraps and reflectivity. I have always liked this image of Joel's and wanted to try some experimentation on my own
So I thought I would set out to build a poor mans light box made out of white poster foam core board. I built a simple L sharp with a short square piece of foam core and a longer rectangualr version. I joined the corners of these two pieces with gaffers tape.
I then used a rectangular piece of foam core as the "floor" of the box around which i fit my L structure. I didn't join the two as the l structure stood upright without any issues. Here's a image of my light box in use: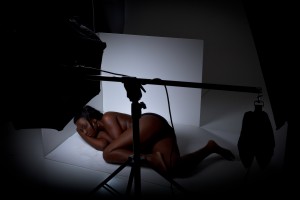 Using model Tiffany Jackson, who was kind enough to put up with my rookie level of experimentation, I produced these two images from the light boxing part of the session:
Key Learning's: I need to make the light box higher. Cropping and saving time in photoshop is key and you need more vertical height to make this work more efficiently. Experiment with different ISO and aperture settings to find one you like. This is more of a creative exercise in my view than anything else. Its easy to build and you will have fun trying to see what your like.
Nuff Said.